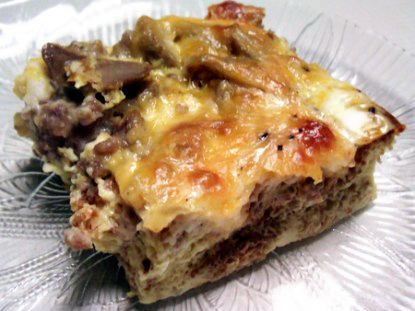 Difficulty: Easy
Servings: 8-10
Cook Time:
45 minutes
Ingredients
6 slices bread, cubed
1 pound sausage, browned, drained
1 1/2 cups shredded Cheddar cheese
8 each eggs, beaten
2 cups milk
1 teaspoon salt
pepper to taste
I added mushrooms too! I am sure you can add anything you want to this recipe!
Directions
Cube bread and place evenly in greased 9×13 pan or baking dish. Sprinkle evenly with sausage and cheese. Mix eggs, milk, salt and pepper. Pour over ingredients in pan. May cover and chill overnight. (if left overnight, remove from refrigerator 15 minutes before baking). Bake 45 minutes at 325 degrees or until set. Cut into squares to serve.
Categories: Breakfast, Casserole, Crowd-Size
Submitted by: nataliecyphers on June 11, 2010