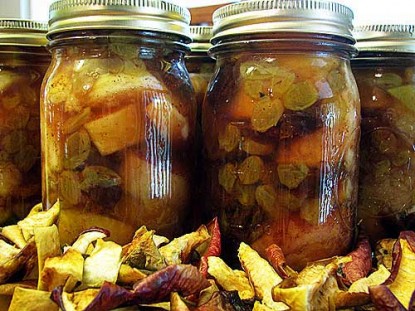 Difficulty: Easy
Servings: 4 quarts
Prep Time:
1 hour
Cook Time:
20 minutes
Ingredients
6 pounds mixed apples
2 cups sugar
1 cup dried cherries
1 cup golden raisins
2 tablespoons grated lemon peel
2 teaspoons cinnamon
1 teaspoon nutmeg
2 cups water
1 tablespoon lemon juice
Directions
Wash and core apples; do not peel. (LOVE THAT IN A RECIPE.) Cut apples in thick slices. Combine apple slices with sugar in a large saucepot, stirring gently to coat apples. Let sit 20 minutes. Stir in dried cherries, raisins, lemon peel, cinnamon, and nutmeg. Add water and lemon juice. Bring to a boil then reduce heat and simmer 5 minutes. Pack hot fruit in jars. Ladle hot syrup over fruit, leaving a full inch headspace. (Be SURE to leave good headspace on this recipe–the dried fruit will swell during processing.) Remove air bubbles. Adjust two-piece lids. Process pints and quarts 20 minutes in a hot water bath.
Categories: Boiling Water Bath, BWB Fruits, Canning, Preserving
Submitted by: suzanne-mcminn on July 31, 2010