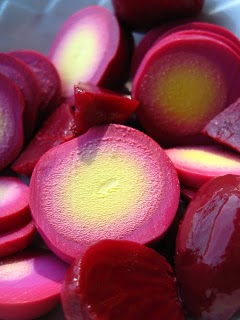 Difficulty: Easy
Servings: 6
Ingredients
12 hard boiled eggs, shells peeled
2 jars sweet and tangy beets (I usually use 2 pints of home canned beets)
1 large onion, chopped or sliced (optional)
2 Tbsp pickling spice
1 cup sugar
1/2 – 3/4 cup vinegar (to taste)
Directions
Strain beets from juice (save juice) and set aside.
In small pot add beet juice, sugar, vinegar, and pickling spice.
Bring to boil then lower heat to a low simmer.
Simmer for about 5 – 10 minutes then remove from heat.
In desired, nonreactive, container combine eggs, beets, onions, and beet juice mixture making sure that the eggs are completely submerged. Use a soft rubber/silicon spatula to position eggs and remove air bubbles.
Let mixture cool then store in fridge at least 3 days before serving.
Categories: Appetizers & Snacks, Dairy, Eggs, Entertaining, Old-Fashioned, Other Side Dishes, Pickling, Side Dishes
Submitted by: staci on July 8, 2010