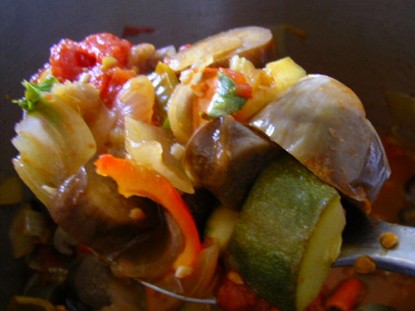 Difficulty: Easy
Servings: 6-8
Prep Time:
15-20 min.
Cook Time:
20 min.
Ingredients
3 Tablespoons olive oil
1 large onion, thinly sliced (Sweet onion works well)
4 cloves garlic, minced
1 small bay leaf
1 medium eggplant cut in 1/2″ cubes
2 small zucchini
1 red bell pepper
4 tomatoes, cored and chopped (Romas work best)
1 tsp. sea salt
1/4 c. shredded basil leaf*
2 Tablespoons red wine vinegar
1/2 tsp. thyme
*Basil can be shredded by folding large leaves and cutting in thin strips with kitchen shears.
Directions
Place olive oil in a dutch oven or small stock pot. Warm pan to medium and add onion, garlic and bay leaf. Stir for a few minutes to evenly cover veggies with oil and slightly soften.
Add eggplant and stir for 7-8 minutes. Stir in zucchini, red pepper, tomato, and salt. Turn down to medium low and simmer with lid on about 10 minutes.
Stir in basil, red wine vinegar, and thyme.
Categories: Freezing, Low-Fat, Main Dish, Other Soups & Stews, Vegetables
Tags: French
Submitted by: patrice on July 9, 2010