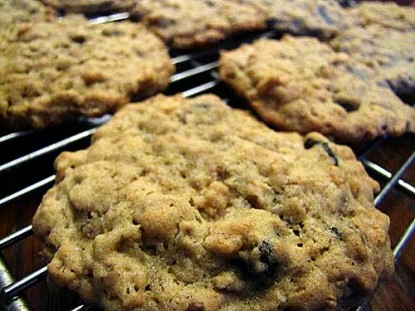 Difficulty: Easy
Servings: 5-6 dozen
Prep Time:
10 minutes
Cook Time:
10-12 minutes
Ingredients
1 cup shortening, butter, or margarine
1 cup sugar
1 cup brown sugar
2 eggs
1 teaspoon vanilla
2 cups all-purpose flour
1 teaspoon baking soda
1/2 teaspoon baking powder
1/2 teaspoon salt
2 cups Rice Krispies
2 cups oatmeal
1 cup raisins
1 cup chopped nuts (optional)
Directions
Cream shortening, butter, or margarine and sugars. Beat in eggs and vanilla. add flour, baking soda, baking powder, and salt. Add to first mixture; mix well. Stir in Rice Krispies, oatmeal, raisins, and nuts (if using). Drop by the spoonful onto a very lightly greased cookie sheet. Bake at 350-degrees until golden on top but still soft–10-12 minutes, depending on size. (Don't over-bake or they get hard.) Will make about 5-6 dozen.
Categories: Cookies & Bars, Desserts, Entertaining, Holiday
Submitted by: suzanne-mcminn on December 12, 2010