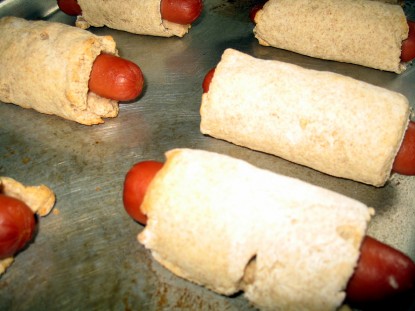 Difficulty: Easy
Servings: 8
Prep Time:
15 minutes
Cook Time:
15 minutes
Ingredients
Biscuit Dough:
1 cup whole wheat flour
1 cup all purpose flour
1 tablespoon baking powder
1 teaspoon salt
1/4 cup shortening
3/4 cup milk
8 hot dogs
Directions
Biscuit Dough:
Add all ingredients except milk to food processor. Run until the mixture looks crumbly. Add milk slowly with processor running until dough forms a ball. Roll out on floured surface to about 1/4″ thick. Cut into eight (8) rectangles, approximately 4″ x 6″.
Piggies:
Roll each hot dog into a rectangle of dough. Place on lightly greased cookie sheet. Bake at 450 degree F for 15 minutes.
Categories: Appetizers & Snacks, Entertaining, Kid-Friendly, Main Dish, Other Main Dish, Potluck
Submitted by: sahmcolorado on May 14, 2010