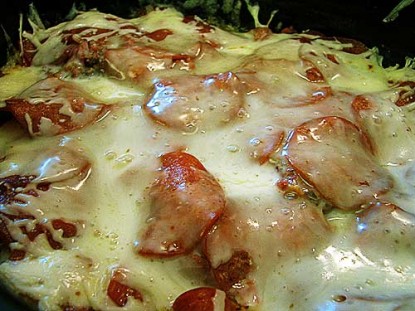 Difficulty: Easy
Servings: 8
Prep Time:
20 minutes
Cook Time:
1 hour 30 minutes
Ingredients
1 pound ground beef or sausage
1 cup chopped onion
garlic salt to taste
1 quart (undrained) canned tomatoes (stewed or whole)
6 ounces tomato paste
2 teaspoons Italian seasonings
lasagna noodles (uncooked)
2 eggs
3 cups ricotta or cream cheese
1/2 cup Parmesan, grated
1 tablespoon parsley flakes, dry
sliced pepperoni
8 ounces mozzarella, shredded
Directions
Brown ground beef or sausage and onions. Drain grease. Add garlic salt, tomatoes, tomato paste, and Italian seasonings. Stir to combine. Grease 6-quart crock pot. Spoon a small amount of meat mixture into the pot then add (uncooked) lasagna noodles. Break noodles as needed to cover the bottom of the pot in a single layer. Combine eggs, ricotta or cream cheese, 2 tablespoons of the Parmesan, and parsley flakes. Spoon half of the ricotta/cream cheese mixture over the noodles. Add half of the meat sauce and cover with a layer of pepperoni slices. Top with shredded mozzarella. Repeat, ending with sprinkling the rest of the Parmesan on top.
Turn crock pot on High. Cook on High, with the lid on, for 30 minutes. Turn pot to Low and cook for another hour. Take lid off, turn off heat, and let rest 15 minutes before serving.
Categories: Beef, Crock Pot, Kid-Friendly, Main Dish, Pasta, Pork
Submitted by: suzanne-mcminn on April 25, 2010