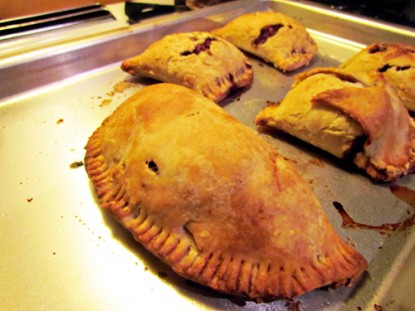 Difficulty: Easy
Servings: 6 or 7
Prep Time:
30 min
Cook Time:
60 min
Ingredients
Crust:
I used Suzanne's Foolproof Pie Crust – it's so flaky and just better than the flour, water, shortening version we used.
Filling:
2 1/2 – 3 # round steak, cubed into 1″ pieces
5 medium potatoes, finely diced
2 small onions, finely diced
1/3 of a small rutabaga, finely diced
Directions
Make pie dough. Divide dough in 1/2 before putting in fridge. Work 1/2 at a time. Roll into a rectangle, about 22″ x 10″.
There should be about 6-7 cups of filling. Mix all together. Season with salt and pepper to your liking.
In 3 equal portions of the dough, put 1 cup of the filling on bottom half, leaving room to fold the dough over on top. Using water, make a line around the mound, flip the other side of the dough over, and seal around each mound of filling with your hand. Cut around each mound leaving about 1″ of dough so you end up with a 1/2 moon shape.
Do the same with the other 1/2 of dough.
This will gives you 6 pasties. If you have left over filling, roll out the extra dough to use up the filling. Mine made 7.
Brush tops with milk and bake at 450F for 20 minutes, turn oven down to 350F for another 40 minutes. Let rest for at least 15 minutes.
Variations:
You can use a food processor for finely dicing the vegetables.
Carrots are also known to be used in place of the rutabaga, but this makes it an inferior pasty 😉
Burger can be used in place of the steak, just use the leaner beef.
Instead of doing 2 rectangles of crust, you can divide the dough into 6 even balls before putting in fridge, then roll individually and make each pasty individually.
Some people eat it with gravy, some with ketchup.
Categories: Beef, Old-Fashioned, One Dish Meal, Vegetables
Submitted by: cindyp on April 30, 2010