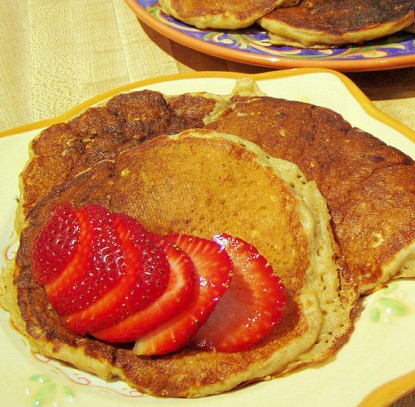 Difficulty: Easy
Servings: 4 - 5 servings
Ingredients
1 cup non-fat yogurt
1 cup milk
1-1/3 cup old fashioned oatmeal
2 eggs
1/4 cup brown sugar
1/4 cup vegetable oil
1 medium banana, roughly mashed
1 cup whole wheat pastry flour
1 tsp baking soda
1 tsp salt
1 tsp cinnamon
Directions
Mix the yogurt with the milk in a glass mixing bowl, warming in the microwave about 90 seconds, stirring once at about 45 seconds. Stir in oatmeal until well coated and let sit about 15 minutes to soften. Add the brown sugar and mix well, breaking up any lumps. Stir in eggs, oil and banana until blended. Mix well the flour, soda, salt and cinnamon in a separate bowl before stirring into the wet ingredients until just blended.
Preheat lightly greased griddle or large skillet to medium heat. When hot, plop and spread the thick batter by quarter cup measure — a gravy ladle is my favorite. Watch the pancakes as you may have to reduce heat to medium-low to prevent scorching before the center is cooked. Extra sugar from the fruit makes this a concern, but still worth the effort. Cook until the edges look DRY and the underside is golden, before flipping to cook until baked through. This recipe produces about 15 pancakes, give or take a dribble. Leftovers can be wrapped and stored in the refrigerator to be gently heated on small plate about 30 seconds in the microwave.
The pancakes go very well with fruited syrups or, for the chocolate addicts, sprinkle mini chocolate chips on each pancake after pouring on the hot pan.
Categories: Breakfast, Griddles
Submitted by: ruthmarie on May 4, 2010