I got the call that everyone dreads; my mom had passed away. It was January 18, 1988, 2 AM. The next morning I immediately went to her house. I had to retrieve her treasures. I walked through the backdoor driven to find them and get home to my small daughters. Were her treasures stocks and bonds? Nope. Jewels of great value? Nope, again. My mom was a simple woman that lived in a 900 square foot home. There were no earthly treasures to be found here. But there was something that was of great value to me — my mom's recipe boxes and cookbooks.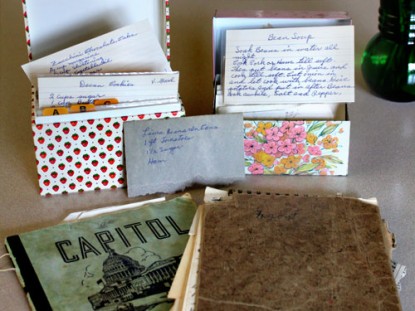 I remember walking to the kitchen counter where she kept her worn and stained recipes. I retrieved them and went home to mourn and be with my girls.
It's now July 2010. Those boxes and cookbooks still hold a very special place in my heart. I refer to the recipes all the time to make one of my mom's delicious creations. I'm not sure if I should really call them recipes. Here's an example of her Baked Lima Bean recipe:
Ham cut up in hunks and fried
Bacon fried
Catsup
1 quart tomatoes (they would have been home canned)
Mustard
Brown Sugar
Salt
Pepper
Do you notice what's missing? Yep, no times, quantities, temperature or the main ingredient, the BEANS!!
I loved this darn recipe but have yet to recreate it so that it's just like hers. I've come close but not quite. Maybe I'll never get it. I think sometimes it just tasted so good cause Mom made them just for me. How do you list love as an ingredient? You all know what I'm talking about.
When I make something that was my Mom's I tell my kids. It's one of the ways they get to know a wonderful lady. I'm also making sure that the treasures they receive from me will be in a more usable format. I've started recipe files for all my kids. I print off the recipes and tell them who they came from. I make sure I include each child's favorite and I add recipes as we discover new ones.
Like mom, I won't be passing on stocks and bonds or jewels. I will be passing on history, good foods made with simple ingredients and lots of love.