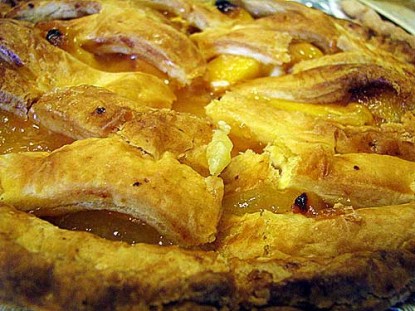 Difficulty: Easy
Servings: 6 - 8
Prep Time:
5 minutes
Cook Time:
minimum of 12 minutes up to what a recipe specifies
Ingredients
For an 8 1/2 or 9 inch pie plate:
1 1/2 cups flour (you can use half all-purpose with half whole grain)
2 teaspoons granulated or confectioners sugar, or honey (if using honey add with the wet ingredients)
1/2 teaspoon salt
1/2 cup oil or soft butter
2 – 3 tablespoons cold milk (start with 2 and add more if too dry)
For a 10″ pie plate:
2 cups flour
2 1/2 teaspoons sugar
2/3 teaspoon salt
2/3 cup oil
3+ tablespoons cold milk
If I'm making a savory quiche I leave out the sugar. I can make 1 1/2 of this recipe as a base for a baked kutchen, or other type pastry, in a 9X13 inch cake pan.
I have also doubled this recipe and rolled it out between 2 layers of plastic wrap (with no flour). Remove the top layer of plastic, and flip the crust into the pie plate. Carefully press into the plate, and then remove the top layer. Repeat for the top crust, seal, and flute. This makes a very thin crust for a 2 crust pie, which saves a lot of calories.
Directions
In a pie plate, place the flour, sweetener, and salt and combine well with a fork. Add the fat and milk, and continue to combine until you can pick it up and form into a ball. Do not knead. Flatten the ball, in the bottom of the pie plate, and press outward to fill the pie plate. You can flute the top edge of the crust with three fingers, as you would with a rolled pie crust.
For a filled pie crust, fill and bake as per your recipe time and temperature.
For a pre-baked crust, prick well with a fork and bake at 400-degrees for 12 – 15 minutes. Check it as it bakes and pop any bubbles that form with the tines of the fork, and press flat with the fork. Keep an eye that it doesn't get too brown. Let cool and fill with a cool filling.
Categories: Budget, Cheesecakes, Cookies & Bars, Crusts, Desserts, Entertaining, Kid-Friendly, Other Desserts, Pies, Special Occasions, Tarts, Tips & Tricks
Submitted by: chubbybunny on May 25, 2010