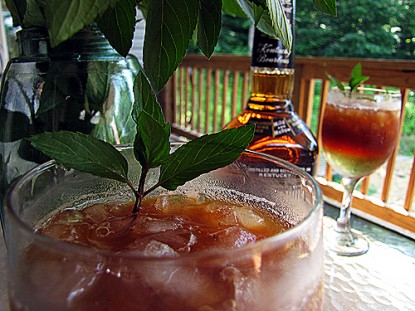 Difficulty: Easy
Servings: 2
Prep Time:
5 minutes
Cook Time:
5 minutes
Ingredients
½ cup water
½ cup sugar
2 tablespoons fresh mint, chopped roughly
8 ounces bourbon*
extra fresh mint sprigs for garnish
* You can make a non-alcoholic mint julep by replacing the bourbon with cola or tea.
Directions
Make a syrup of water, sugar and chopped mint leaves in a small pot; boil on high until the sugar is dissolved. Let syrup cool then strain liquid to remove mint leaves. Fill two glasses or goblets with crushed ice and pour 4 ounces of bourbon and half of the mint syrup into each glass. Garnish with a sprig of fresh mint.
Makes two drinks. (Recipe can be easily doubled, tripled, and so on, depending on how many drinks you want to make.)
Categories: Beverages, Entertaining, Old-Fashioned, Special Occasions
Tags: Derby-Day
Submitted by: suzanne-mcminn on June 18, 2010