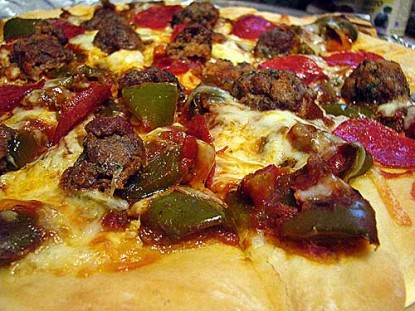 Difficulty: Easy
Servings: 6-8
Prep Time:
10 minutes
Cook Time:
30 minutes
Ingredients
2 large (12-inch) pizza crusts
25.5 ounce Oliverio Italian style Peppers (Medium Hot) in Sauce Olvero (or other pizza sauce)
mozzarella, shredded
cooked meatballs (approximately 15), sliced in half
pepperoni slices
Directions
For the pizza crusts, I used the one-loaf dough for Grandmother Bread. You could use any pizza dough recipe or store-bought crusts. You could also substitute any pizza sauce, homemade or store-bought, but I think this is particularly good with the Oliverio peppers in sauce if that's available where you are. For the meatballs, I used my meatball recipe here.
Bake the crusts for about 15-20 minutes before adding the toppings then add, in this order, sauce, cheese, meatballs, and pepperoni.
Note: If you prefer, pour the Oliverio sauce into a bowl first and cut up the peppers into smaller pieces. (That's what I do.)
Bake the pizzas for another 10-15 minutes until the crusts are lightly browned and the cheese is melty. (I switch the pizzas between the top and bottom oven racks while baking.)
Categories: Kid-Friendly, Pizza
Submitted by: suzanne-mcminn on June 9, 2010