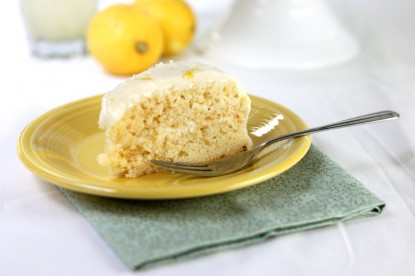 Difficulty: Intermediate
Servings: 10
Cook Time:
20
Ingredients
Cake:
1 1/3 cups sugar
6 tbsp. butter, softened
1 tbsp. grated lemon rind
3 tbsp. thawed lemonade concentrate
2 tsp. vanilla
2 large eggs
2 large egg whites
2 cups flour
1 tsp. baking powder
1/2 tsp. baking soda
1/2 tsp. salt
1 1/4 cups fat-free or low fat buttermilk
Frosting:
2 tbsp. butter, softened
2 tsp. grated lemon rind
2 tsp. thawed lemonade concentrate
1 (8 oz.) block 1/3-less-fat cream cheese, very cold (if it's softened the frosting will be too thin)
* 3 1/2 cups powdered sugar
Directions
1. Preheat oven to 350 degrees (F). Coat 2 (9 inch) round cake pans with cooking spray.
2. Combine sugar, butter, lemon rind, lemonade concentrate and vanilla in a large mixer bowl. Beat at medium speed until well blended, about 5 minutes.
3. Add eggs and egg whites, one at a time, beating well after each addition.
4. Combine flour, baking powder, baking soda and salt in a separate bowl. Add half of the flour mixture to the mixer bowl and beat well.
5. Add all the buttermilk and beat again. Then beat in the remaining flour.
6. Pour batter into the prepared pans evenly. I weighed both pans on my kitchen scale to make sure they have the about same amount in each. Sharply tap pans once on the counter to remove any air bubbles.
7. Bake for 20 minutes or until a toothpick comes out clean. Cool in pans for 10 minutes, remove and cool completely on a wire rack.
8. While the cake is cooking, start preparing the frosting. Place butter, lemon rind, lemonade concentrate, vanilla and cream cheese in a large mixer bowl and beat at high speed until fluffy.
9. Add powdered sugar and beat at low speed just until blended. Don't overbeat!
10. Chill in refrigerator for at least an 1 hour.
11. When cake is completely cooked and the frosting has been chilled, spread 1/2 cup of frosting over one cake layer. Top with the other layer and spread the remaining frosting over the top and sides. To have a much easier time frosting the cake, I recommend putting the completely cooled layers in the freezer for about half an hour first.
Serve chilled or at room temperature. Store cake, loosely covered, in the refrigerator.
Submitted by: emiline220 on April 19, 2010