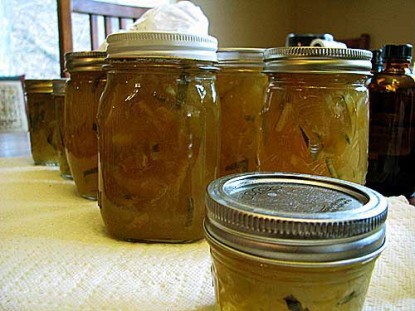 Difficulty: Intermediate
Servings: 7 1/2 pints
Prep Time:
12 hours
Cook Time:
10 minutes
Ingredients
2 1/2 cups chopped lemon pulp
2 1/2 cups chopped lime pulp
1 cup thinly sliced lemon peel
1 cup thinly sliced lime peel
1 1/2 quarts water
1 package pectin
sugar
Directions
Combine all ingredients except the pectin and sugar in a large pot. Bring to a boil then simmer 5 minutes. Let sit, covered, for 12 hours. Measure the lemon-lime mixture then return to the pot. Add pectin and bring to a boil. Add sugar–cup per cup for what the lemon-lime mixture measured–and stir to dissolve. Bring to a rolling boil. Boil hard one minute. Put in jars, leaving 1/4-inch headspace. BWB 10 minutes.
Categories: Boiling Water Bath, BWB Marmalades & Conserves, Canning, Preserving
Submitted by: suzanne-mcminn on July 31, 2010