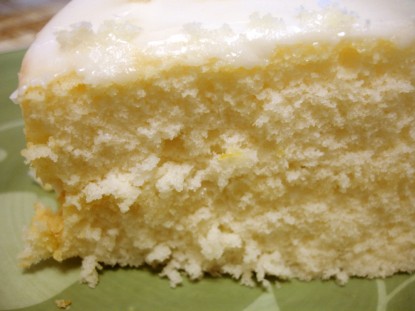 Difficulty: Intermediate
Servings: 8-12
Prep Time:
20 minutes
Cook Time:
25 minutes
Ingredients
2 cups cake flour
1 1/4 white sugar
3 tsp baking powder
1/4 tsp salt
3 egg whites
1 cup milk (skim is fine)
1 tsp lemon extract
zest from one lemon (minus 1 tsp)
1/2 cup butter, melted but cool
********************
1 cup powdered sugar
1 tsp lemon extract
1 tsp lemon zest
milk (amount varies–enough to make thin icing)
Directions
1. Preheat your oven to 350 degrees. Grease and flour (don't use cooking spray for this cake) two 8-inch round cake pans.
2. Beat the egg whites until they start to thicken but are still moist.
3. Gradually beat in the 1/4 cup of sugar until soft peaks form. Then set aside.
4. Sift together the flour, 1 cup of sugar, baking powder, and salt.
5. Add the milk, lemon extract, zest, and butter to the flour mixture and beat for 2 minutes.
6. Now fold the egg whites into your cake batter. Combine thoroughly, but carefully. You don't want to squash all the air out of the egg whites. Folding them in carefully will give you a light, fluffy cake!
7. Pour cake batter evenly between the two prepared pans.
8. Bake for 25 minutes and then transfer the cakes to a wire rack to cool.
9. Meanwhile, make the icing. Whisk together the powdered sugar, extract, zest, and milk until very thin and runny.
10. Place one cake onto a cake pedestal or plate and cover with about a third of the icing. You may need a bit more to get it covered.
11. Place the second cake on top and pour the rest of the icing over the cakes. Use a knife to help the icing run over the sides.
Categories: Cakes, Desserts, Entertaining, Kid-Friendly, Old-Fashioned
Submitted by: sunshinemom on May 6, 2010