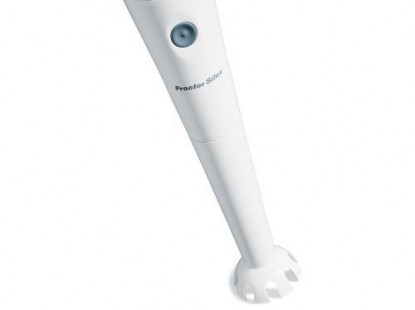 Did you know that there is a photo gallery at the bottom of every recipe post? If you make a recipe from here, you can upload your own photo to the gallery on that recipe! You can also do that with your own recipe–if you submit a recipe without a photo, you can add the photo the next time you make the recipe by uploading it to the gallery on your recipe. How fun is that? Multiple photos can be uploaded to each recipe's gallery. I think it will be fun to see everyone's photos of how their recipes turned out!
Okay, back to today's giveaway! I have a hand blender, which is about the most useful thing you can have in your kitchen. And you can use it for soapmaking, too! I have this same hand blender and I LOVE IT.
For a chance to win: Just leave a comment on this post! One winner will be drawn by random comment number to receive the hand blender. Eligible entry cut-off is midnight Eastern (U.S.) time tonight (May 7). This post will be updated with the winner by 9 a.m. Eastern (U.S.) time tomorrow (May 8). Return to this post to see if you won.
Note: You must be registered to post a comment. Sign up (it's free!) and join us!
*See the winner of yesterday's giveaway here.
Update 05/08/10: The winning comment number, drawn by random.org, is #2, Vicki. Email me at CITRgiveaways(at)aol.com with your full name and address for shipping!