We're having sewer put in at our house. It's not my choice, the township is making everyone. I've had people digging in my yard on and off since December, 2009. I work for a plumbing and heating company. You would think that would give me a great chance to get my work done quickly. Nope, I keep getting moved to the bottom of the list. I'm understanding. At least that's what they tell me. So of course, it came down to the wire and we had to get the work done before Monday. That meant I had 7 manly men at my house at 6:30 Saturday morning. They started hauling stone around 7 AM. There was 180 feet of ditch that needed stone. That's hard, tiring work. It makes a man hungry. I should have thought about that. So, it was no surprise when hubby asked if I'd make lunch for everyone. Not a problem, except I'd been sick all week and hadn't gone to the store. In fact, I hadn't been to the grocery store in almost 3 weeks. What to do? I could run to the store except my car is in the garage and that ditch is behind my car.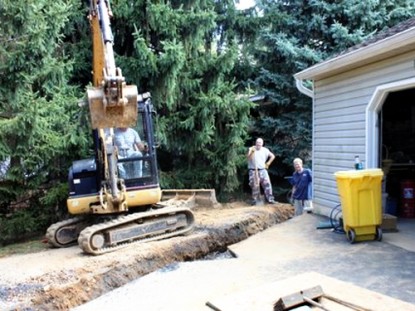 One of the guys offered me his truck.
Guys can be so funny! I could order takeout except they don't deliver here so that means…
Hit the freezers and the basement. Pizza! Manly men like pizza, but I don't have any sausage or pepperoni. I do have canned hamburger and pizza sauce, that will work. I've got tons of onions and peppers, even jalapenos. Manly men love hot, spicy food. I'll make my One Minute Pizza Dough recipe. It's quick, easy and delicious and since they want to eat in less than 2 hours it will work perfectly.
I'll also make a pie–men love pie. Even if lunch is slim pickings, pie will make up for a multitude of faults. I've got apple, peach and blueberry pie filling in the basement. Who wouldn't like fresh, homemade pie? I made a blueberry pie with apples thrown in.
They didn't drink all the coffee from this morning's pot. I'll make Black Magic Cake with Mocha Frosting. It's rich, delicious and chocolaty. Guys like chocolate, too!
Here's the spread that my daughter and I managed in one hour and 40 minutes minus the pie, which was already eaten by the time I took this picture.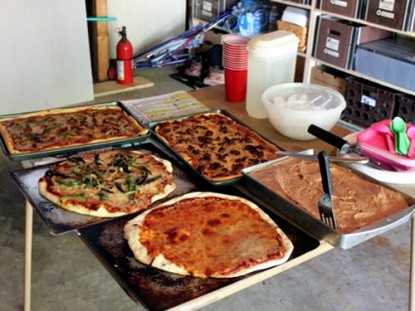 Here are the leftovers: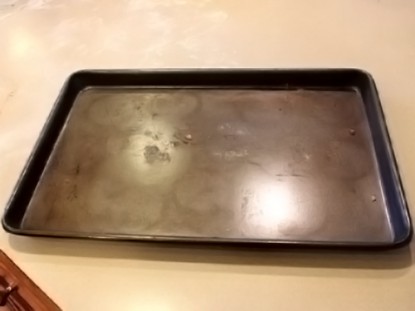 Seven guys ate 4 pizzas and 3/4's of a cake and one blueberry/apple pie. They didn't seem worried about calories. I forgot to mention that I made 14 egg sandwiches for them for breakfast.
A few years ago, this same situation would have caused me great anxiety because I wouldn't have been prepared. Now I just head to my well stocked basement shelves and throw a few things together for a tasty meal. I've gone from being dependent on stores and fast food to being dependent on me coming up with meals for my family.
By the way, the one young man actually asked me who delivered the pizza. He'd never had homemade pizza and didn't know that you could actually make it yourself. He went home with the recipe for my One Minute Pizza dough. Gee, maybe I should have told him about CiTR.

You can also find Kelly at Yahoo's Canning2.

Interested in contributing a guest post to the Farm Bell blog? Read information here for Farm Bell blog submissions.

Want to subscribe to the Farm Bell blog? Go here.