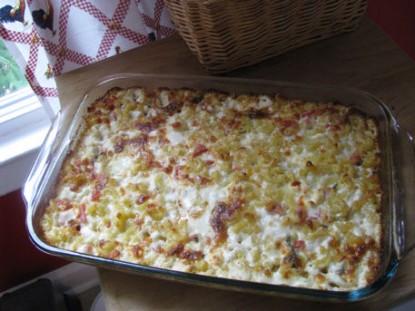 Difficulty: Easy
Servings: 12
Prep Time:
10 mins
Cook Time:
30-45 mins
Ingredients
kosher salt
fresh ground pepper
3 cups heavy cream
14 oz. can diced tomatoes
3/4 cup parmesan cheese
1 1/2 bag or 3 cups of Kroger or Kraft Italian cheese blend
1/2 cup of ricotta cheese
10 fresh basil leaves chopped
1 pound penne pasta
room temp butter
Directions
Preheat oven to 400 degrees F. Bring 5 quarts of salted water to a boil in a stockpot. Combine all ingredients except the penne and butter in a large mixing bowl. Mix well. Add salt and pepper to taste. If you are using kosher salt, I think it needs almost a teaspoon (half that if using table salt). I like it peppery, almost like alfredo so I go with a half to a full teaspoon of pepper. Taste to make sure it is seasoned enough.
Drop the penne into the boiling water and parboil for 4 minutes. Drain well in colander and add to the ingredients in the mixing bowl, tossing to combine. Pour pasta mixture into a 9×13 casserole dish, dot with the butter and bake until bubbly and brown on top 30-45 minutes. Cover with foil if it looks like it is getting to brown on top, put under the broiler at the end if it doesn't look crispy enough.
Categories: Main Dish, Pasta, Pasta, Potluck, Side Dishes
Submitted by: lauren on November 23, 2010