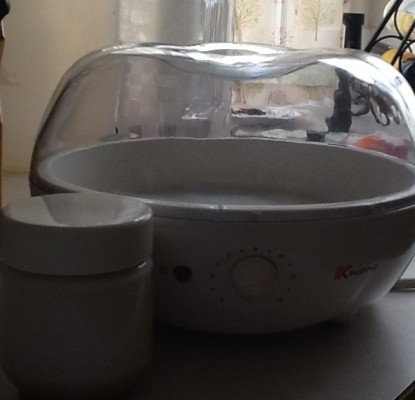 Difficulty: Easy
Servings: 6
Prep Time:
2 Minutes
Cook Time:
8 Hours
Ingredients
4 Cups Whole Milk
1/3 Cup Powdered Milk
1 4 to 6 oz. container of plain or any flavored yogurt with active cultures
6 Tbsp Jam (whatever you have on hand)
Directions
1) Take the lids off your clean jars and put about a 1 heaping tablespoon of the jam into the bottom of 6 of your jars. Place them into the yogurt maker and turn the maker on the 8 hour setting and put the main lid back on. This is just to get the heater, jars and jam warmed up.
2) Measure 4 cups of milk into a medium saucepan and lightly whisk in 1/3 cup of powered milk then, with a candy thermometer in place, bring the milk up to 170 degrees. Remove from heat and let cool to between 108-112 degrees. (I'm not a patient person so I typically start the process when it drops below 120.)
3) Lightly whisk in the yogurt. Your not beating eggs here; just dissolving the yogurt into the milk. If there are any flavored fruit bites hanging out in there that you don't want in the final product you can strain them out before you pour it into the jars but do not mix the jam into it.
Side Note: If this is coffee flavored yogurt and you're making it with peach jam and considering the unsavory ramifications of the two, just remember the yogurt will be quite diluted with the milk and it's quite possible you may not detect the coffee flavor in the end. We are using up what is on hand here and making do.
4) Pour yogurt mixture into jars 1/4 inch from the rim. For the 7th jar you're just making the starter for next week's batch so no need to place jam in that one just put the remainder in there.
5) Place the lids back on the jars and put them into the maker with the main lid on as well. Then ignore it, let it go, do the laundry, run your errands, take a nap, rescue your cow….
6) On the 8th hour check one to see the progress. If I tilt it sideways and has the consistency a little less than yogurt don't be afraid to leave it in there another hour or two. When you feel the thickness is set enough, tighten the lids and set into the refrigerator and don't forget to turn off the yogurt maker as well.
Stir the jam up into the yogurt before eating. The jam sweetens this perfectly for me however, if you need additional sweetness you can add sugar or splenda for example and increase the amount of jam you use next time. Also, Remember to not eat the 7th jar to be used for next weeks batch.
Categories: Breakfast, Budget, Dairy, Other Breakfast, Other Dairy
Tags: homemade yogurt, jam, milk, sweetened yogurt, yogurt, yogurt maker
Submitted by: justquilting on February 12, 2013