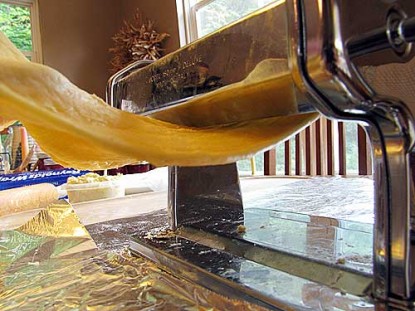 Difficulty: Intermediate
Servings: varies
Prep Time:
10 minutes
Cook Time:
varies
Ingredients
3 cups flour (all-purpose or semolina)
3 eggs
1 tablespoon vegetable oil
water
Directions
Combine all the ingredients (except for water) in a medium-size bowl. Mix together as best as you can then start adding water a little at a time. I find that about 1/3 cup water works for me. Use just enough water to get the mixture to hold together and form into a ball. You'll have to get your hands in there and knead it until you have a firm but pliable dough.
Set the ball on a floured sheet of wax paper and cut in two halves. Cover with a damp cloth or paper towel and let rest for 30 minutes then cut the halves in half again so that you have four pieces.
From this point, you can roll it out by hand to make whatever kind of pasta you like, or use a pasta machine!
Submitted by: suzanne-mcminn on July 23, 2010