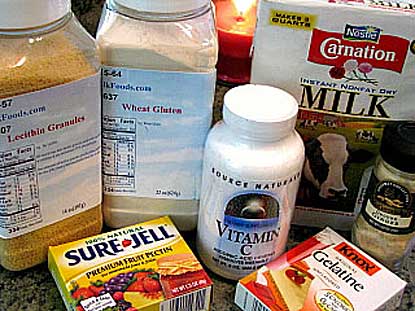 Difficulty: Easy
Ingredients
1 cup wheat gluten
2 tablespoons lecithin granules
1 teaspoon ascorbic acid crystals
2 tablespoons powdered pectin
2 tablespoons unflavored gelatin
1/2 cup nonfat dry milk
1 teaspoon powdered ginger
Directions
I use a combination of wheat gluten, lecithin, ascorbic acid crystals, pectin, gelatin, nonfat dry milk, and ginger. Wheat gluten improves the texture and rise of bread. Lecithin teams up with the gluten to make bread lighter. Ascorbic acid (Vitamin C) helps the yeast work better. Pectin adds moisture, as does the gelatin. The dry milk helps the dough relax (man, who needs uptight dough?), and the ginger is another yeast booster (you won't taste it in the finished product). Most of these are also preservatives, so they help keep your bread fresh longer, and they are all natural.
Mix together and store in an airtight container in the refrigerator. For 100% whole grain breads, use 3 tablespoons per loaf. Add to your recipe along with the flour.
I love dough enhancer so much I make it in triple batches and keep it in a quart-size jar.
Happy whole grain bread baking!
Note: While it's not necessary to use dough enhancer in white bread recipes, you can! You'll have higher loaves, and loaves that stay fresh longer. Especially in summer months, if you don't use air conditioning, dough enhancer will help you keep your bread fresh longer.
Categories: Breads, Ingredients & Mixes, Yeast Breads
Submitted by: suzanne-mcminn on July 27, 2010