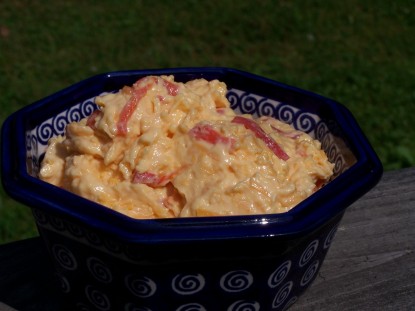 Difficulty: Easy
Servings: Varies
Ingredients
Equal parts shredded Velveeta and sharp or extra sharp cheddar cheese
Real Mayo (salad dressing really doesn't taste good in this – I like it for other things, but not this one)
Jar of chopped Pimentos with their juice (large or small depends on how much cheese you shred)
Directions
Mix the cheeses with enough mayo to make a fairly dry consistency. Dump in as many pimentos with their juice as it takes to make it taste good. We like quite a lot of pimento. If needed, add more mayo. How much you thin the spread depends on how you are going to use it.
Must admit that I thought this sounded pretty disgusting when she first told me about it. Then I ate some and have never tried it any other way. Of course, I had to try it once using Miracle Whip. Only that once!
Can be used as a dip, sandwich spread, or stuffing for celery or other vegetables.
Categories: Appetizers & Snacks, Cheese, Old-Fashioned
Submitted by: pete on April 30, 2010