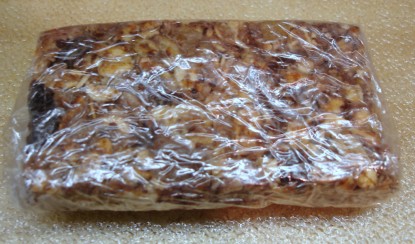 Difficulty: Easy
Servings: 20
Prep Time:
25 mintues
Ingredients
2 cups oats (sometimes I substitute Multi-Grain Cheerios)
3/4 cup wheat germ
1 cup crushed peanuts
*******
2/3 cup brown sugar
1/3 cup honey
4 Tbsp Smart Balance
2 tsp vanilla
1/4 tsp Kosher salt
6-8 oz dried fruit (your choice)
1/3 cup mini semi-sweet chocolate chips
Directions
Preheat your oven to 400 degrees.
Line a jelly roll pan with foil (or any cookie sheet with sides). No need to grease it, just spread out the oats and wheat germ.
Crush your peanuts. I like to use low sodium dry roasted peanuts, but you can use any type of peanut or nut that you like. I use my mini chopper to chop up the peanuts, but you can crush them in a plastic bag using a cup.
Add the peanuts to the oats and wheat germ and mix.
Toast them in the oven for 10 minutes, stirring after 5 minutes and checking two minutes early. You don't want the wheat germ to burn. After they are done you can turn off the oven.
Line a 9×13 inch glass baking pan with wax paper. Grease the paper with a little cooking spray and set aside.
Add your toasted mix to a large bowl and pour in fruit of choice. I like to use a 6 oz bag of mixed fruit.
Add the brown sugar, honey, butter, vanilla, and salt to a saucepan.
Melt over medium low heat until the mixture comes to a simmer or low, low boil. Remove from heat when you see the first little bubbles coming to the surface.
Pour your yummy sugar mixture into the bowl over the fruit and oats.
Stir and make sure that everything is evenly coated.
Now the chocolate chips!!
Drop your granola bar mixture into your greased and lined 9×13 pan.
Spread evenly to all sides.
Cover with another sheet of wax paper and press down hard. You aren't going to bake these, so you need to press them into shape so they won't fall apart.
Leave the wax paper on top and set aside to cool for 2 hours. Remove top sheet of paper and use the bottom sheet to pick up the entire giant bar and put it on a cutting board or your counter top.
I make four cuts lengthwise and three width wise.
Categories: Appetizers & Snacks, Breakfast, Cookies & Bars, Gift Basket Goodies, Kid-Friendly, Potluck
Submitted by: sunshinemom on May 11, 2010