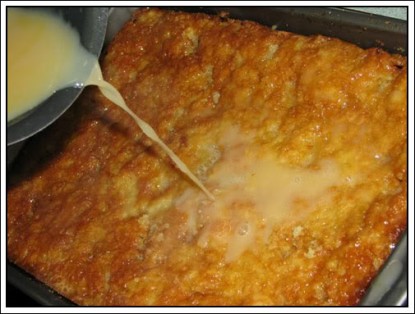 Difficulty: Easy
Servings: 24
Ingredients
1 – 20 oz. can crushed pineapple (do not drain)
2 eggs
1 1/2 c. sugar
1 tsp. salt
1 tsp. baking soda
2 c. self-rising flour
1 cup brown sugar
1 cup chopped pecans
1 cup evaporated milk
1 stick margarine
1 1/2 c. sugar
1 tsp. vanilla
Directions
Mix together pineapple, eggs, 1 1/2 c. sugar, salt, baking soda and self-rising flour. Pour into greased 9 x 13-inch pan.
Mix together brown sugar and pecans and sprinkle on top of batter.
Bake at 350 degrees for 40 minutes.
While cake is baking, mix the evaporated milk, margarine, 1 1/2 c. sugar and vanilla in saucepan:
Bring to boil, boil for 1 minute stirring constantly. Reduce heat and simmer for a couple more minutes. Stirring occasionally. When cake is done baking, punch holes in top with wooden spoon handle and pour boiled mixture over top while cake is still hot. Let cool and serve.
Submitted by: kentuckyfarmgirl on May 3, 2010