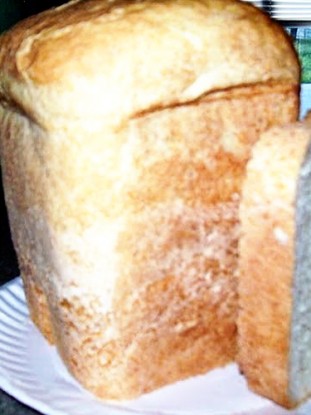 Difficulty: Easy
Servings: 1 - 2# loaf
Prep Time:
2 min
Cook Time:
Varies by Bread Machine
Ingredients
1 2/3 c warm water
4 c flour
2 1/2 Tbsp sugar
2 tsp salt
1 pkt (1 scant Tbsp) yeast
**the bread machine creates a rougher texture than by hand, you can add 2 Tbsp lard, butter, shortening and cut back on the water if you want a smoother loaf.
Directions
Add ingredients to bread pan in the order listed.
Select cycle (Mine is Basic). Start.
Make sure to always check the dough after a couple minutes of mixing; the dough should have a "sticky note" feel on the backs of your knuckles.
** You can also just select the "dough" cycle, put in pans when the cycle is done, let rise, then bake in oven at 350 for about 25 min.
Categories: Bread Machine, Breads, Yeast Breads
Submitted by: cindyp on May 8, 2010