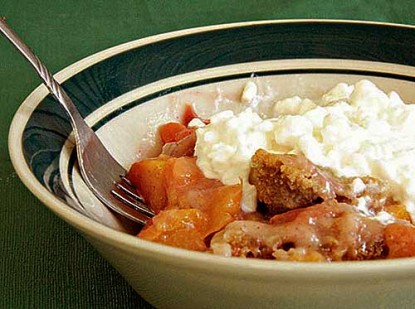 Difficulty: Easy
Servings: many
Prep Time:
20 minutes
Cook Time:
30 minutes
Ingredients
1 stick (1/2 cup) butter
1 cup flour
1/2 to 1 cup sugar
1 tablespoon baking powder
1 teaspoon cinnamon
1 cup milk
6-8 cups cut peaches
Directions
Set oven temperature at 350 degrees F. Place butter in 9 x 13-inch baking dish, and place in oven to melt while oven heats. Mix together dry ingredients. Stir in milk. Pour batter over melted butter. Spread fruit over the batter. Bake 30 minutes or until the crust has risen and browned nicely. Serve with ice cream, whipped cream, or plain.
Categories: Cobblers, Desserts, Old-Fashioned
Submitted by: laurap on August 1, 2010