At the end of October my husband and I, both graduates of the University of Arizona, packed up the kids, drove to Tucson, and attended Homecoming Weekend.
It was a bit of a reunion for me — my best friend (also a U of A graduate) flew in from Chicago, another good friend came in from the DC area, as did a number of other old U of A friends and coworkers. We spent the most of our time hanging out with old friends and their new families at our favorite old haunts.
Someone would ask, "What are your plans for the weekend?" and another would answer "I am not leaving Tucson until I get a basket of Green Fries and a Hen House from the Frog & Firkin." or "I need BBQ chicken pizza from No Anchovies." or "Gentle Bens. I have been jonesing for a raspberry beer and portabello mushroom burger."
Looking back, it seems like all we did in college was eat, which can't be right, since I remember being money poor and, well, SKINNY.
Anywhoo! Saturday was game day, which meant tailgating and various university club tents. The Student Union tent had a cake commemorating the 125th year of the university. A majestic creation — sculpted to look like the beautiful and proud Old Main.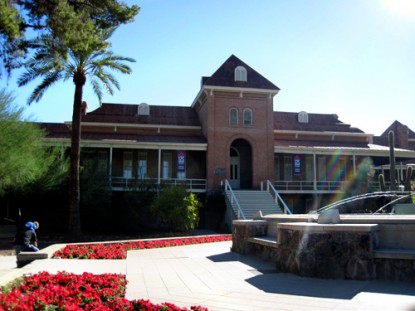 Majestic Old Main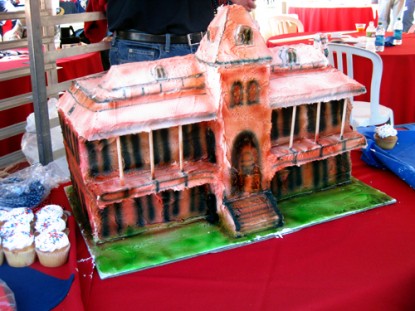 err, the majestic cake (?).
GooOOOOOO CATS!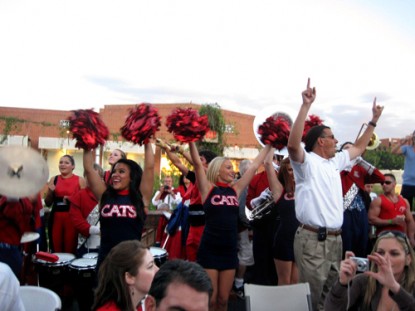 OK, I am just kidding. The cake is still a billion times better than anything I could do. I don't have the patience needed for such work. I wish I were half as talented. Even though I found the cake sculpture wreck-worthy, the cake itself was AWESOME. See the little cupcakes in the picture? I think I ate ~10 all by myself. THEN I gave a cupcake to the kids.
The Union's head baker was distributing the recipe—one passed down in the U of A student union for the last 125 years.
Bear Down, Arizona!
Get the handy print page and save this to your recipe box here:
White Sheet Cake.

Larissa blogs at The Henway.

Interested in contributing a guest post to the Farm Bell blog? Read information here for Farm Bell blog submissions.

Want to subscribe to the Farm Bell blog? Go here.