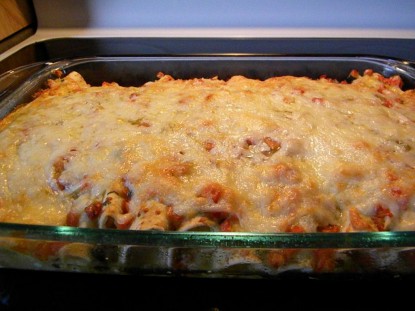 Difficulty: Easy
Servings: 6
Prep Time:
10 minutes
Cook Time:
25 minutes
Ingredients
2 Tablespoons Vegetable Oil
8 cloves Garlic, Thinly Sliced
2 cans Cannellini Beans (15.5 Oz Each), Drained
Chicken Broth
1 pinch Salt
12 whole 6″ Flour Tortillas
16 ounces Monterrey Jack Cheese, Shredded
1 cup Fresh Salsa
•1 can Mild Green Chile Sauce (10 Oz.)
Directions
Preheat the oven to 375 degrees (F).
Heat oil in sauce pan over medium heat. Add garlic and cook, stirring until just golden, about 2 minutes. Stir in beans and cook for 1 minute, then stir in broth. Season with salt and cook about 7 minutes, mashing beans until soft. Cool slightly.
Warm up flour tortillas (it makes them easier to work with). Place equal amounts of bean mixture into each tortilla. Sprinkle with cheese (save some to put on top of enchiladas before baking), and roll up. Place in a greased 9?x13? baking dish. Top with salsa, green chile sauce and remaining cheese. Bake until cheese is melted and sauce is bubbly, about 25 minutes.
Categories: Beans, Beans, Grains & Rice, Casserole, Kid-Friendly, Main Dish
Submitted by: northernslady on November 8, 2010