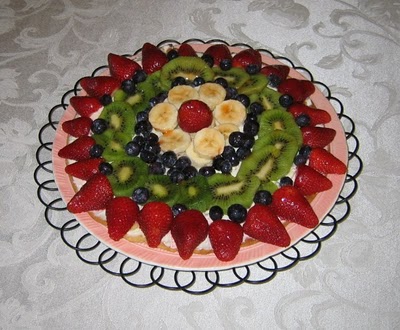 Difficulty: Easy
Servings: 8 to 10
Prep Time:
20 minutes
Cook Time:
10 minutes
Ingredients
Pie crust
1 package cream cheese 8 oz.
7 Tbsp sugar
1 Tbsp vanilla
fruits of your choice
jelly of your choice for glaze
Directions
Lay crust flat on a baking sheet and bake at 450 until just lightly browned. Let the crust cool.
Combine cream cheese, sugar and vanilla. Spread filling over entire crust.
Assemble fruits of your choice on filling.
Using any jelly of your choice as a glaze, heat it a little to make it spreadable and brush over fruits.
Categories: Appetizers & Snacks, Gourmet, Holiday, Other Desserts, Presentation, Special Occasions
Submitted by: chershots on May 4, 2010