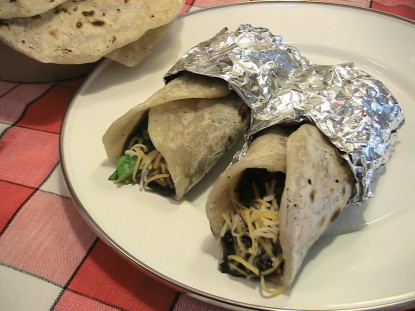 Difficulty: Easy
Servings: easily a dozen
Prep Time:
5 minutes
Cook Time:
15 minutes
Ingredients
2 cans Canned Pinto Beans (or a quart jar of home canned)
1 package Taco Seasoning Mix
1 package Shredded Cheese (Mexican 4 Cheese Mix is my favorite)
1 jar Taco Sauce Or Enchilada Sauce
1 package Tortillas
Directions
Place the beans in a sauce pot.
Partially mash beans (leave some beans whole)
Add taco seasoning mix
Add 1/4 cup of sauce to bean mixture
Heat slowly while stirring to mix
Simmer 5 minutes
Place a warmed tortilla on a plate
Place a small amount of bean mixture on the warmed tortilla (make a line
from side to side just slightly off center).
Sprinkle a 1/4 cup of cheese on top of the bean mixture
Top the cheese with a bit of the sauce.
Wrap the tortilla into a roll shape (turn the seam side of the tortilla
down on the plate
Sprinkle the top of the tortilla with 1/8 cup of cheese
Top the cheese with a bit of sauce.
Place the plate with the burrito in a microwave oven and heat to warm
(and melt cheese) – takes about 2 minutes on high in my oven)
Categories: Beans, Beans, Grains & Rice, Budget, Kid-Friendly, Main Dish
Submitted by: tractor57 on May 6, 2010