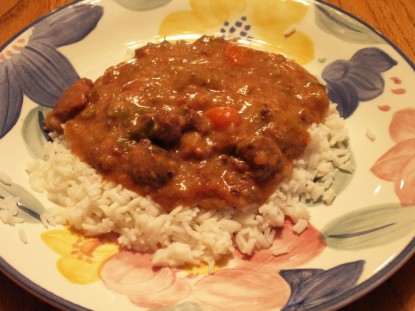 Difficulty: Easy
Servings: 12
Ingredients
18-24 duck breast halves (amount can vary depending on how much meat you like)
2 – 26 oz cans of chicken and rice soup
1 – 28 oz can of diced tomatoes
1 bunch of celery stalks
1 onion
3 green peppers
2 red peppers
1/2 bag of baby carrots
Green onions – diced into 1/4 inch pieces
4 chicken bouillon cubes
Flour
Salt
Pepper
Tony Chacheros seasoning
Garlic powder
1 tsp Tabasco
2 whole bay leaves
2 Tbsp Worcestershire sauce
Vegetable or canola oil
8 cups water
Rice
Directions
Cut the duck breast into 1″ pieces. Mix 2 cups of flour with salt, pepper, garlic powder, and Tony Chachero's seasoning. My husband doesn't measure the amounts, he seasons to taste. You might have to repeat this process of adding flour and seasoning depending on how much duck you use.
Roll the pieces of duck in the seasoned flour. Meanwhile, heat 1/4″ deep vegetable oil on medium heat in a non-stick skillet. Once the oil is good and hot, fry the duck pieces for about 5-7 minutes or until lightly browned. Take the browned meat out and place in a large stock pot. Repeat the process until all the duck is browned.
While you are cooking the duck, place the two large cans of chicken and rice in the stock pot, add the large can of diced tomatoes, 4 chicken bouillon cubes, 2 whole bay leaves, Worcestershire sauce, and Tabasco. Season to taste. (If we are having a lot of people over, we don't season as much – that way each can add some "spice" if they like it hotter).
Once the duck is finished browning and added to the large pot, clean the fry pan and coat the bottom with vegetable oil. Cook the diced vegetables until they are tender (or cook to your family's preference) – carrots, celery, green and red peppers, onion and green onion. My husband prefers a chunkier gumbo, so dices all the vegetables but the green onions anywhere from 1/2″ to 3/4″ in size.
Once you finish the vegetables, add them to the stock pot. Add about 6-8 cups of water and add some Tony's (again to your taste!) to the mixture and let it simmer on the lowest heat. Stir periodically to make sure it doesn't stick to the bottom of the pan. Check on the thickness – if it gets too thick add water.
The Hunter prefers to cook the gumbo the day before and serve it the next day – it seems to increase the flavor.
TO SERVE:
Cook the amount of rice you think you will need according to the directions on the box or bag. We serve the rice and the gumbo separately buffet style and let people add as much of each as they want.
Categories: One Dish Meal, Potluck, Wild Game
Submitted by: barib on June 4, 2010