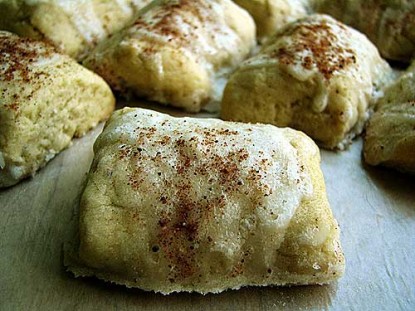 Difficulty: Easy
Servings: 3-4 dozen
Prep Time:
20 minutes
Cook Time:
12-15 minutes
Ingredients
FOR THE COOKIE:
1 cup butter, softened
3/4 cup sugar
1 egg
2 teaspoons vanilla
2 teaspoons rum flavoring or 1/4 cup rum
1 heaping teaspoon nutmeg
3 cups all-purpose flour
FOR THE FROSTING:
3 tablespoons butter, melted
1/2 teaspoon vanilla
1 teaspoon rum flavoring (or a big dollop of rum)
2 cups sifted powdered sugar
a couple tablespoons milk (as much as needed for drizzling consistency)
Directions
Preheat a 350-degree oven then start with some rum. Bacardi Gold or Calico Jack spiced rum is good. You should probably test the rum first. You don't want any bad rum going into your cookies.
When you're sure the rum is okay, cream the butter and sugar. You might want to stop now and check the rum again. You can't trust it. It might go bad.
Add the egg, the 2 teaspoons of vanilla, and either 2 teaspoons of rum flavoring or 1/4 cup rum. Add the heaping teaspoon of nutmeg.
This is when you're about to get up to the real manual labor, so it might be a good time to take a break and test the rum again.
Dump in 3 cups all-purpose flour. This makes a pretty heavy cookie dough, so use a sturdy spoon.
Divide the dough into four parts and shape each part into a long, log-like roll. Cut into three-inch pieces with a sharp knife. Place the cookie logs on an ungreased baking sheet. Bake at 350-degrees for 12-15 minutes. Cool before frosting.
This is a good time to test the rum again.
Frosting: Cream the 3 tablespoons butter with the 1/2 teaspoon vanilla and either 1 teaspoon of rum flavoring or a big dollop of rum. Add powdered sugar (a couple cups) and a few tablespoons of milk until you have icing at a drizzling consistency. Frost cooled cookies and sprinkle with more nutmeg.
Serve with rum.
Categories: Cookies & Bars, Desserts, Entertaining, Holiday
Tags: Christmas Cookie
Submitted by: suzanne-mcminn on December 9, 2010