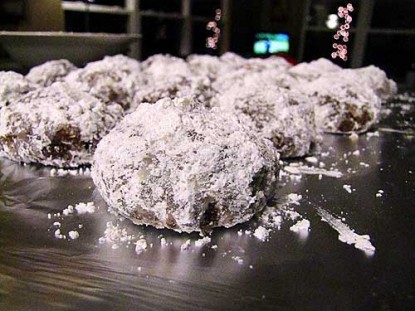 Difficulty: Easy
Servings: 3 dozen
Prep Time:
20 minutes
Cook Time:
20 minutes
Ingredients
1 cup butter
1 cup sugar
1 teaspoon vanilla
1 3/4 cups all-purpose flour
½ cup cocoa
1 cup nuts, crushed or chopped
semi-sweet chocolate chips
powdered sugar for rolling
Directions
Cream the butter, sugar, and vanilla. Stir in the flour, cocoa, and nuts. Divide the dough in half and wrap the two balls of dough in plastic. Chill one hour. Scoop off spoonfuls of chilled cookie dough. Flatten into a circle then drop three chocolate chips inside. Shape into balls, tucking the chocolate chips inside. Place on ungreased cookie sheets and bake at 350-degrees for 20 minutes.
While still warm, roll in powdered sugar. Recipe can easily be doubled or tripled.
Categories: Cookies & Bars, Desserts, Entertaining, Holiday
Submitted by: suzanne-mcminn on December 6, 2010