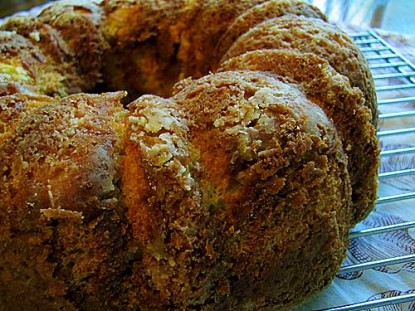 Treasure Trove
collection of vintage war-time recipes. I love the name
Defense Cake
. On further study of the recipe, I determined it was basically a sponge cake, renamed for the era and the patriotic effort these women at home were immersing themselves in to make-do during shortages. Even in town, you might well have some chickens, so you had eggs, but fewer people in town had access to a cow and fresh milk, making the milk-less sponge cake the way to go.
Difficulty: Easy
Servings: 12-15
Prep Time:
20 minutes
Cook Time:
1 hour
Ingredients
6 egg yolks
1/4 teaspoon salt
3/4 cup sugar
1/2 cup pineapple juice
1 tablespoon lemon juice
1 2/3 cups cake flour
1 teaspoon baking powder
6 egg whites
3/4 cup sugar
Directions
Note: It's perfectly fine to use all-purpose flour instead of cake flour, and I didn't have any pineapple juice so I substituted orange juice. Substituting whatever you have on hand is in keeping with the war-time make-do mission.
In a large mixing bowl, beat egg yolks and salt until light and fluffy. Add 3/4 cup sugar gradually, beating after each addition. Add pineapple (or orange) juice and lemon juice. Add flour and baking powder to egg yolk mixture; beat. In a separate bowl, beat egg whites until light but not dry. Add 3/4 cup sugar gradually (fold in) then fold egg white/sugar mixture into the egg yolk/flour mixture. Bake 1 hour at 325-degrees in ungreased angel food tube pan. You may want to cover the top with a sheet of aluminum foil halfway through to prevent over-browning. Invert until cool.
Categories: Budget, Cakes, Desserts, Old-Fashioned
Submitted by: suzanne-mcminn on August 20, 2010