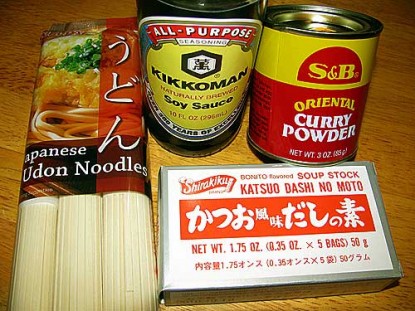 Difficulty: Easy
Servings: varies
Prep Time:
30 minutes
Cook Time:
20 minutes
Ingredients
Onion: 1 1/2, moderate chop
Green onion: slice the tops at an angle
Pork: 1 pound, sliced into thin long strips
Japanese soup stock (Hon Dashi) 2 teaspoons
Curry powder, Japanese: 5 teaspoons
Cornstarch: 4 teaspoons
water: 8 cups
Udon Noodles: 400 g
Soy sauce: about 1/2 teaspoon
Directions
Soften the onions in a little oil, stirring consistently, then add the pork. When the pork is cooked through, mix in the curry powder. Cook for a couple of minutes. Bring a large pot of water to a boil and cook the noodles at a lower simmer. Add 7 cups of the water to the pork mix, stir it in, add soy sauce, then add the last cup of water–thickened with cornstarch (just lightly thickened). Finally, add the cooked noodles to the thickened broth and sprinkle in the slices of the green onion. Serve in bowls.
Categories: Main Dish, Pasta, Pork
Submitted by: moopseemort on August 18, 2010