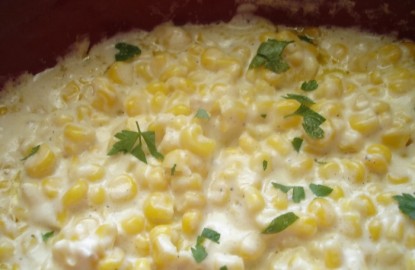 Difficulty: Easy
Servings: 6 - 8
Prep Time:
10 -15 minutes
Cook Time:
4 hours
Ingredients
20 oz. package(s) frozen corn
1 stick (1/2 cup) unsalted, sweet cream butter
1 (8-oz.) package cream cheese in block
Seasoned salt and black pepper to taste
1 1/2 Tbsp. sugar (optional, if you like it sweet)
Directions
Place frozen corn in a crock pot. Cut the stick of butter into 1/2-inch pats and place on top of frozen corn. Add salt and pepper to taste. Place block of cream cheese on top and cover. Cook on low in crock pot about 4 hours, stirring occasionally, until ingredients are well-blended and hot. Check the seasoning and add seasoned salt and pepper, if needed.
For large crock pots and a large crowd, just double or triple the recipe!
Categories: Crock Pot, Crowd-Size, Potluck, Vegetables
Submitted by: sobelle on June 4, 2010