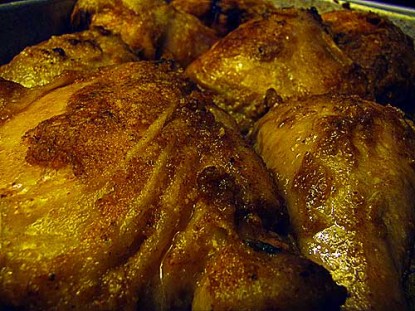 Fajita Mix
instead of taco seasoning mix to make it salt free. I found this in a copycat recipe book and have adapted it to our liking.
Difficulty: Easy
Servings: About 5 or 6 packets worth
Prep Time:
5 min
Ingredients
4 c flour
2 tsp cayenne pepper
1 c crushed crackers or bran cereal
2 Tbsp parsley flakes
2 tsp garlic powder
1 Tbsp onion powder
2 tsp chili powder
2 Tbsp taco seasoning
1 tsp ground pepper
1 tsp curry powder
1 tsp basil
1 tsp oregano
Directions
Mix together well.
This makes quite a few packets worth of mix. I use a bread bag, pour about a cup of mix into the bag. If I need more, I add more. I keep this in a jar in the pantry for fast use.
To Use:
Preheat oven to 400F.
Put mix in bag and shake chicken pieces or dredge the chicken in the mix.
Melt 1/4 cup butter in a shallow 9 x 13 baking pan.
Place chicken skin side down and baste top with
melted butter from the pan. Bake uncovered for 25 min.
Turn skin side up, reduce heat to 350F and bake
until tender; 30 – 35 minutes.
Categories: Ingredients & Mixes, Low-Sodium
Submitted by: cindyp on May 21, 2010