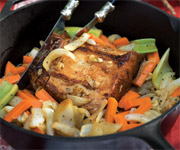 Difficulty: Easy
Servings: 6
Prep Time:
10 minutes
Cook Time:
1 1/2 hours
Ingredients
1 tablespoon vegetable oil
1 (2 lb.) boneless pork loin
2 medium onions, vertically sliced, about 2 1/2 cups
4 medium carrots, cut diagonally into 1/4 inch slices, about 1 1/2 cups
2 celery stalks with leaves, sliced
2 garlic cloves, minced
1 teaspoon dried rubbed sage
1 teaspoon dried thyme
1 teaspoon kosher salt
1/4 teaspoon coarsely ground black pepper
1 cup apple cider
Directions
1. Heat oil over medium-high heat in a Dutch oven. Add pork and cook until well browned on both sides. Remove to a plate. Add onions, carrots and celery to pan; cook over medium heat, stirring occasionally, for 10 minutes or until onions are tender. Stir in garlic, sage, thyme, salt and pepper.
2. Return pork and any juices to Dutch oven and pour cider over top. Cover and simmer, basting occasionally, 1 1/4 hours or until temperature on meat thermometer inserted in middle reaches 150 F. Remove roast from pan and let rest for 10 minutes. Slice pork and serve with vegetables and pan sauce.
Categories: Main Dish, One Dish Meal, Pork
Submitted by: peach106 on May 14, 2010