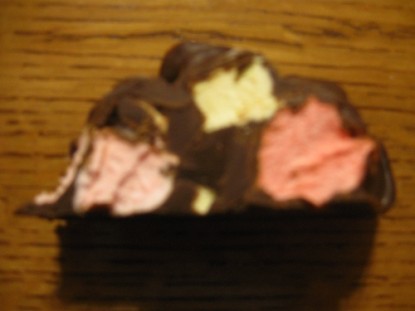 Difficulty: Easy
Servings: 2 -12" inch rolled logs
Cook Time:
just to melt and then mix
Ingredients
1/2 cup (1 stick) butter softened
1 package (12 ounces) semi-sweet chocolate chips
1 teaspoon vanilla extract
1 cup chopped walnuts
1 bag (10.5 ounces) multi-colored miniature marshmallows
1 cup flaked coconut divided
Directions
In a large saucepan, melt butter and chocolate chips over low heat until completely melted. Remove the saucepan from the heat and stir in the vanilla and walnuts. Cool the mixture for about 15 minutes, until cool but not to point of hardening. Fold in the marshmallows and stir until well coated. Spoon half of the mixture lengthwise down the center of a 12 inch piece of waxed paper. Shape into a 12″ x 2″ log and place at one end of waxed paper. Sprinkle 1/2 cup of coconut over remainder of the waxed paper. Roll the log over the coconut, evenly coating the outside of entire log. Wrap the log firmly in the waxed paper, folding the ends snugly. Repeat the procedure with remaining mixture. Refrigerate until firm, at least 2 hours or overnight. Unwrap each log and cut into slices and arrange on serving dish.
Categories: Cookies & Bars, Desserts, Entertaining, Holiday, Kid-Friendly
Tags: Christmas Cookie
Submitted by: twoturkey on December 6, 2010