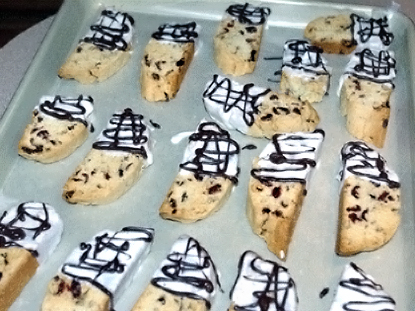 Difficulty:
Ingredients
1/2 cup unsalted butter, room temperature
3/4 cup sugar
1 tsp lemon zest
1/4 tsp salt
2 eggs
2 cups all-purpose flour
1 1/2 tsp baking powder
3/4 cup chopped nuts
2/3 cup Craisins or dried cranberries
Directions
Preheat oven to 350 degrees F.
With an electric mixer, beat the butter, sugar, lemon zest and salt together in a large bowl approximately 3 – 4 minutes.
Add eggs in one at a time.
In a separate bowl, mix flour and baking powder together until well mixed.
Add the flour mixture to the creamed mixture 1/3 at a time; beat until well blended.
Stir in nuts and cranberries; mix.
Form the dough into a 13-inch long, 3-inch wide log on a parchment lined baking sheet. Bake until golden brown, about 30 minutes.
Cool about 15 minutes. Cut 1/2-inch thick on a diagonal with a serrated knife.
Place slices back on baking sheet and bake an additional 10 minutes on each side or until golden brown.
Transfer to cooling rack and cool completely.
Decorate with melted chocolate and sprinkles!
Categories: Candy, Cookies & Bars, Gift Basket Goodies, Holiday, Special Occasions
Tags: Christmas Cookie
Submitted by: ewenique on December 18, 2010