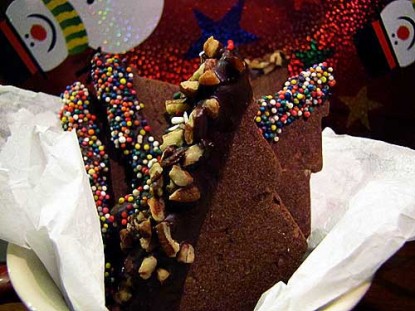 Difficulty: Easy
Servings: 2 dozen
Prep Time:
15 minutes
Cook Time:
8 minutes
Ingredients
1 cup butter
2/3 cup packed brown sugar
1 teaspoon vanilla
1 egg
2 1/4 cups all-purpose flour
1/4 cup cocoa powder
2/3 cup chopped nuts
chocolate candy coating
more chopped nuts, candies, etc for dipping
Directions
In a small pan, combine butter and brown sugar, stirring to melt over medium-low heat. Add the vanilla. Pour butter mixture into a mixing bowl. Add the egg and beat to combine. Add flour and cocoa powder, mixing well. Stir in nuts. You can use pecans, walnuts, whatever you prefer. You can also leave the nuts out if you don't like 'em. Divide the dough into two parts, wrap, and chill at least 30 minutes to make the dough easier to work with. You could chill it for days or weeks, too, if you want.
Preheat your oven to 350-degrees. Roll out the chilled dough, about 1/4-inch thick, on floured waxed paper. Cut with a tree-shaped cookie cutter. Place on lightly greased baking sheets and bake at 350-degrees for 8 minutes. Cool on a wire rack.
Melt several ounces of candy coating in a small pot. (About 3 ounces.) Place some chopped nuts in a small bowl, if using. Dip the sides of the trees in the chocolate then roll the edges in the nuts. Place on parchment paper or waxed paper until set.
You could do these in white chocolate, too. Anything you want to dip the edges. Toasted coconut. Crushed peppermints. Whatever you like.
Categories: Cookies & Bars, Desserts, Entertaining, Holiday
Submitted by: suzanne-mcminn on December 1, 2010