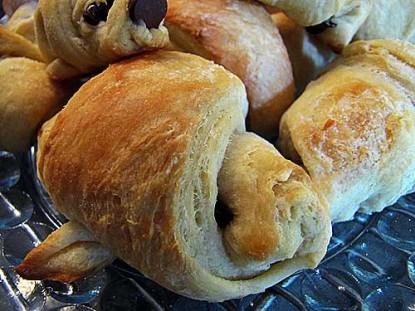 my homemade croissants recipe here
. OR just grab a can of store-bought crescent rolls. (I won't tell.)
Difficulty: Easy
Servings: 8-12
Prep Time:
1 hour
Cook Time:
15 minutes
Ingredients
1 ball of croissant dough or 1 can of crescent rolls
chocolate chips
1 egg white
1 tablespoon water
sea salt
Directions
Roll croissant dough out in a circle and cut into 8-12 slices, like pizza, depending on the size you want. Place chocolate chips toward the fat end of the slice, however much will fit. If you want to go gourmet, use a higher-end chocolate and cut shavings or chunks instead of chocolate chips.
Whisk egg white with water. After rolling up each slice, brush with egg white/water mixture and sprinkle with sea salt. (If you like salt with chocolate. If you don't, you can skip this step. I love it!)
Let rolls rise till doubled, about an hour.
Bake in a 375-degree oven for about 15 minutes. (Depends on size. Less time for smaller rolls.)
Make breakfast fun this weekend! (Why not?)
Categories: Breads, Breakfast, Yeast Breads
Submitted by: suzanne-mcminn on July 25, 2010