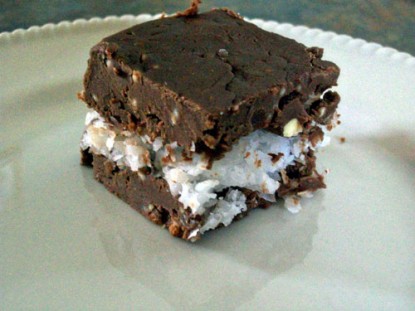 Difficulty: Easy
Servings: 50
Prep Time:
20 min
Cook Time:
5 min
Ingredients
Coconut Filling:
4 cups coconut
1/4 cup light corn syrup
Fudge:
1/2 cup butter, cut up
1/2 cup milk
1 (12 oz) pkg milk chocolate chips, or your favorite kind!
4 cups powdered sugar
1 tsp vanilla
1/2 cup chopped almonds (for the almond joy taste!)
Directions
Coconut Filling:
Mix together well. I got my hands right in there to mix all together. Set aside.
Fudge:
Combine butter, milk and chocolate chips in saucepan. Cook and stir on low heat until butter and chocolate are melted.
Pour into large mixer bowl. Add powdered sugar and vanilla; beat at medium speed, scraping bowl often, until smooth. Stir in nuts.
In a buttered 9×13 pan, spread 1/2 of the fudge mixture. Spread the coconut mixture on top of this layer. At this point, I also spread whole almonds all over the top of the coconut (almond joy!). Spread the last of the fudge mixture to the top.
Cover, refrigerate until firm (1 1/2 – 2 hours).
Categories: Candy
Submitted by: cindyp on April 20, 2010