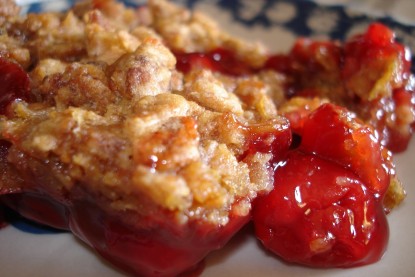 Difficulty: Easy
Servings: 8
Prep Time:
15 min
Cook Time:
30 min
Ingredients
1 can cherry pie filling
1 tsp almond extract
1 1/2 cups oats (quick)
10 tbsp flour
10 tbsp brown sugar
1/2 tsp cinnamon (opt)
8 tbsp margarine, soft
Directions
Mix pie filling and almond extract and put in 8″ square pan.
Combine the dry ingredients and then cut in the margarine until crumbly. Sprinkle over the pie filling.
Bake at 350 degrees for about 30 minutes — until the top is golden brown.
**Other fruit can be used.
Categories: Crisps, Desserts, Potluck
Submitted by: moopseemort on May 10, 2010