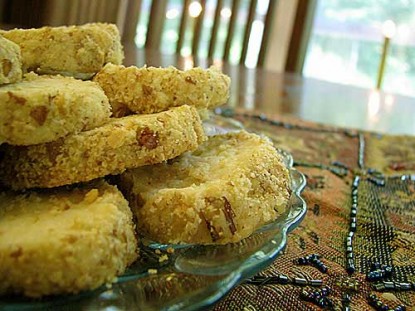 Difficulty: Easy
Servings: 4 dozen
Prep Time:
20 minutes plus chilling time
Cook Time:
8-10 minutes
Ingredients
3/4 cup butter, softened
3 ounces cream cheese, softened
3/4 cup sugar
4 teaspoons lemon peel, shredded
2 tablespoons lemon juice
1 teaspoon vanilla
2 cups all-purpose flour
1/3 cup finely chopped pecans
1/3 cup crushed graham crackers
Directions
In a medium-size mixing bowl, beat butter and cream cheese. Add sugar, lemon peel, lemon juice, and vanilla; beat again. Mix in flour with a spoon. Refrigerate cookie dough for 30 minutes.
Crush pecans and graham crackers. Spread half of the pecan/graham cracker mixture on a piece of wax paper. Lay out half the chilled dough on top of it. Shape and roll into a cookie log, coating in crushed nut-crumb mixture.
Repeat with second half of dough. Transfer rolled, coated logs to fresh sheets of waxed paper and wrap. Chill for about two hours in the fridge, or about 30 minutes in the freezer then slice into lovely little cheesecake rounds.
Place cookies on lightly greased cookie sheets. Bake at 375-degrees for 8-10 minutes. You only want to barely brown the bottoms. Don't over-bake. Store as you would any cookie–they do not need to be refrigerated.
Categories: Cookies & Bars, Desserts
Submitted by: suzanne-mcminn on December 12, 2010