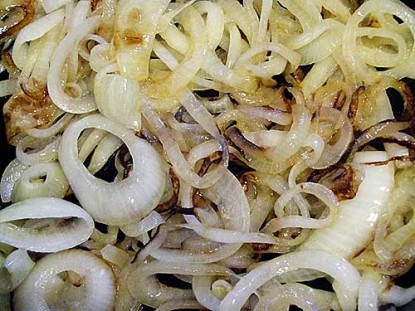 White Sauce Butter Balls
.)
Difficulty: Easy
Servings: 8
Prep Time:
30 minutes
Cook Time:
30 minutes
Ingredients
4 medium onions
butter
1 cup white sauce
1/2 teaspoon granulated chicken bouillon
1/2 teaspoon coarse ground black pepper
1/2 teaspoon thyme
1/2 cup shredded cheese (Cheddar, Swiss, whatever you like)
1 cup coarse bread crumbs
Directions
Slice the onions. I saute them in butter in my iron skillet to caramelize them. I can do all the onions in two batches. I use about 1 tablespoon of butter per batch. Transfer onions directly to a greased 1 1/2 quart casserole dish. For the white sauce, in the same skillet, use two butter balls and add a cup of milk slowly, stirring constantly, adding the pepper, bouillon, and thyme as you go. Add the cheese, stirring to melt.
If you want to make the white sauce from scratch–use a tablespoon of flour, a tablespoon of butter, a dash of salt and pepper to taste, and add a cup of milk slowly, stirring constantly.
Pour the sauce over the onions. Add bread crumbs for the topping. I use one thick slice of Grandmother Bread torn in little pieces. Dot butter on the top.
Bake uncovered at 350-degrees for 30 minutes. Easy! Delicious!
Categories: Budget, Entertaining, Holiday, Side Dishes, Vegetables
Submitted by: suzanne-mcminn on November 24, 2010