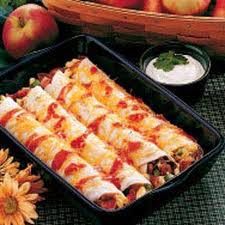 Difficulty: Easy
Servings: 6
Prep Time:
10 min.
Cook Time:
15 min.
Ingredients
1 Tbsp. butter
8 eggs, beaten
¼ tsp. pepper
2 cups Canadian bacon, diced
6 (8 in.) flour tortillas
6 oz. cheddar cheese, shredded
Directions
Heat oven to 400 degrees. Melt butter in large skillet over medium-high heat. Add eggs, pepper and bacon; cook and stir about 5 minutes or until eggs are firm but moist.
Spoon egg mixture evenly onto each tortilla. Top each with 1 Tbsp. cheese. Roll up tortillas tightly. Place seam side down in ungreased 13×9 inch baking dish. Sprinkle remaining cheese over top.
Bake for 10-15 minutes or until cheese is melted. If desired, serve with sour cream and salsa.
Categories: Breakfast, Cheese, Egg Dishes, Eggs
Submitted by: peach106 on July 27, 2010