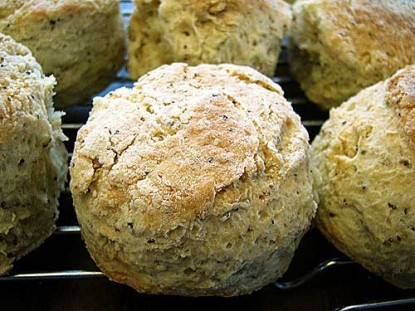 Difficulty: Easy
Servings: 1 dozen biscuits
Prep Time:
10 minutes
Cook Time:
15-20 minutes
Ingredients
2 cups all-purpose flour
1 1/2 tablespoons sugar
2 teaspoons baking powder
2 teaspoons coarse ground black pepper
1/4 teaspoon cream of tartar
1/4 teaspoon salt
8 ounces cream cheese, softened
1/2 cup milk
Directions
Note: To use a baking mix, replace first 6 ingredients with 2 cups baking mix plus the 2 teaspoons pepper.
Place first 6 ingredients (or 2 cups of baking mix plus pepper) in a large bowl and work in the cream cheese with a pastry cutter. Add milk and stir then knead the dough lightly, adding a little extra flour if needed to keep from sticking. Roll dough out onto a floured surface and cut out your biscuits. Place on a lightly greased cookie sheet and bake at 450 degrees for 15-20 minutes. Really good with eggs for breakfast!
Submitted by: suzanne-mcminn on June 6, 2010