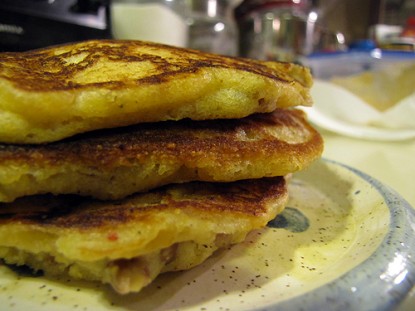 Difficulty: Easy
Servings: varies by size of cakes
Prep Time:
5 minutes
Cook Time:
few minutes per side
Ingredients
1 cup all-purpose flour
1 cup cornmeal
2 tablespoons sugar
1 tablespoon baking powder
1/2 teaspoon salt
2 eggs
1 cup milk
1/4 cup vegetable oil
2 cups seasoned pinto beans, drained*
Directions
*Season the beans as you normally like them, adding in onions, peppers, whatever you like.
In a mixing bowl, combine all the ingredients except the beans and stir to combine. (Don't over-stir.) Add the beans and stir lightly again to combine.
Heat a skillet (iron is best, but a griddle will also do) on medium-high heat. I used an iron skillet with some bacon fat. Pour the batter onto the skillet and cook about a minute or so per side. The cake will bubble up on top (like pancakes do) and tell you it's time to flip it. Serve hot.
Categories: Beans, Grains & Rice, Breads, Breakfast, Griddles, Old-Fashioned, Other Breads
Submitted by: suzanne-mcminn on January 13, 2015